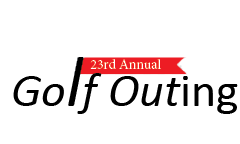 AUGUST 16, 2021
Philadelphia Cricket Club

The 18th at Wissahickon is considered one of the finest finishing holes in all of golf and has appeared numerous times on the World's Top-500 golf holes!
Don't miss the opportunity to play this great course!
We will have both the Wissahickon AND Militia Hill courses available on the day of the golf outing.  
The Wissahickon Course is walk only with caddie.
The Militia Hill course is cart only.
Golfers 65 or older or those with medical conditions are allowed a cart on Wissahickon.
Caddies will be paid as part of the foursome fee, however as with traditional caddie etiquette, cash gratuity per caddie would be appropriate and welcomed.
The outing will begin and end at the Wissahickon Clubhouse located at 6025 West Valley Green Road, Flourtown, PA 19031.
Please be sure to use this address for GPS and directions as there are multiple courses and clubhouses.  
RAIN OR SHINE
Reminders:
Masks must be worn inside the clubhouse, at registration, at snack stations, when walking on the patio, when viewing auction items and on all other occasions when social distancing can not be maintained.
Bring cash for tips – No ATM on site (can discuss contactless payment via Venmo with caddies)
One person in foursome download Golf Genius for contactless scoring
Visit auction website for contactless bidding and payment.  Also mulligans, putting contest, raffles and donation payments accepted contactless through this site.
Appropriate golf attire is required
No metal spikes
Shot gun start if current Covid19 guidelines allow,  Lunch, dinner, and cocktails served on open patio
Online silent auction of Sports and entertainment Memorabilia throughout the day
On course snack stations serving beer, snacks, and bottled water 
Call or email Kathy with questions: Kathy@cancersupportphiladelphia.org or 267-218-3325
Honoring Bob Dietzel, Kevin McPoyle and KMRD Partners with V Award!
This year we will be presenting Bob Dietzel, ARM, CIC, Kevin McPoyle, CIC, RPLU, and KMRD Partners with the 2nd Annual V Award at the golf outing. They were the honorees in 2020 but we were not able to properly recognize them. This award is given to a brave, heroic, and courageous individual that has given selflessly to the community. This individual has impeccable character and is viewed as a leader.  The V award is named in honor of Phil's father, the late Dr.  Venerando Jaurigue who exemplified those qualities in his work and family life.
Also Honoring Kristie Mazzalupi 
This year we will be presenting Kristie with the 3rd Annual V Award at the golf outing. She has been an employee of AstraZeneca for 21 years, with the most recent 6 years in the lung cancer division. Kristie has brought together Philadelphia area cancer clinician leaders and the Cancer Support Community to elevate patient care.  We are thrilled to present this award to Kristie this year along with KMRD.
Diamond Earring Raffle Tickets
$20 each or 3 for $50 suggested donation
Tickets $1,600 per foursome
Get your friends and family together.  You can purchase 8 tickets (2 foursomes) for the price of 7 tickets!  Save $400!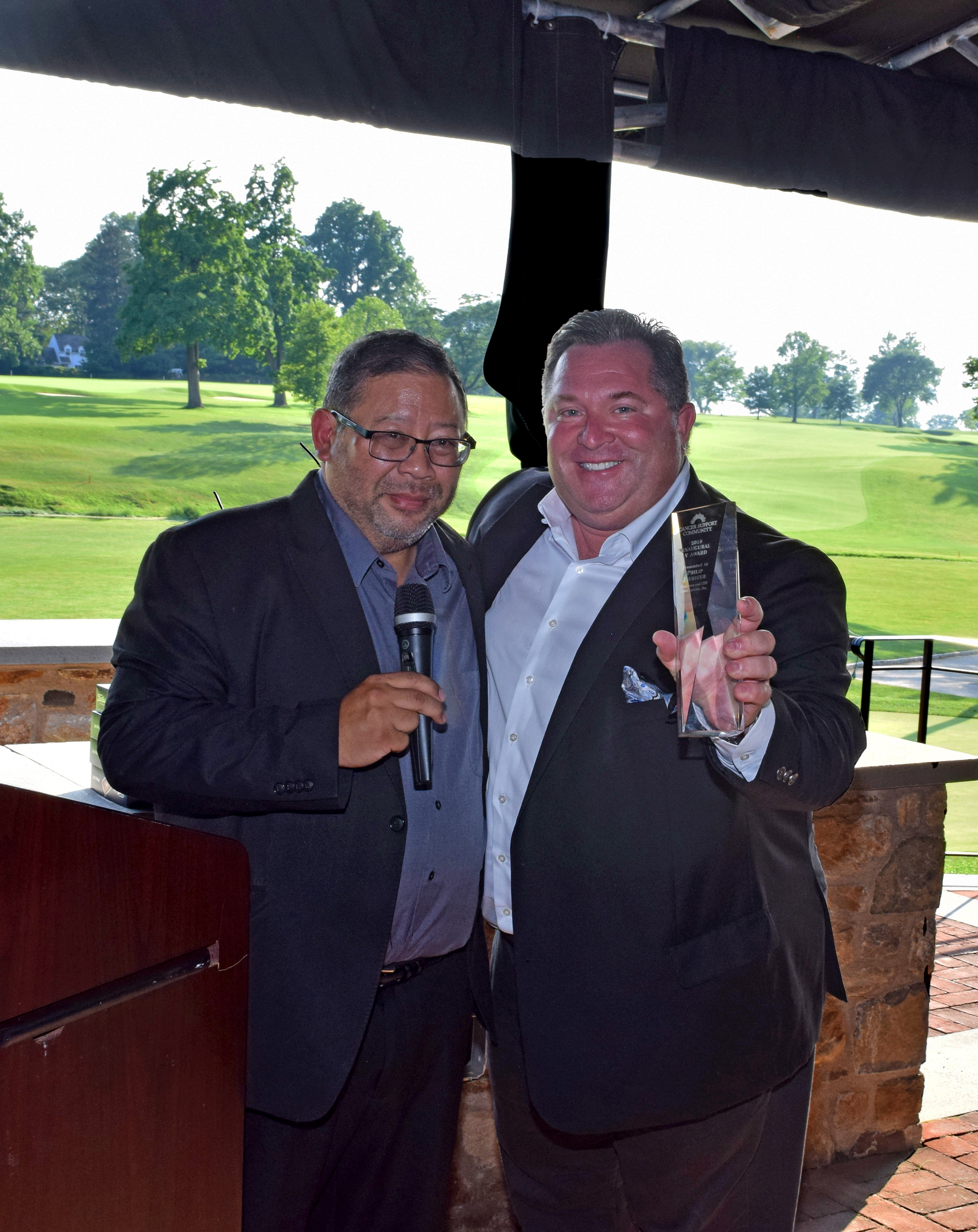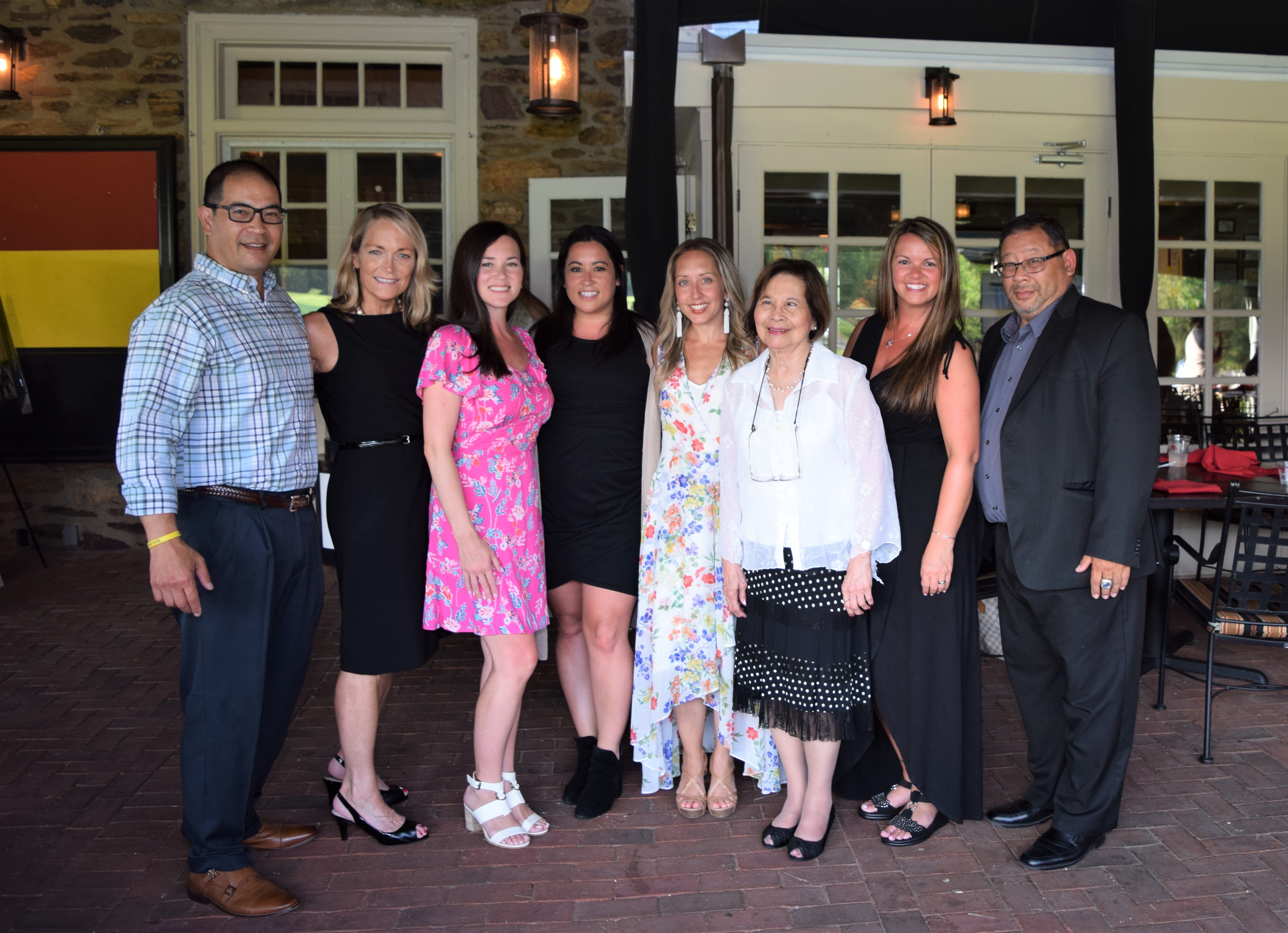 Please note, no physical tickets will be mailed for this event. You will check in with registration when you arrive.
Don't golf? You can still join us for cocktails and dinner at approximately 4:30 pm for $100
The Philadelphia Cricket Club
6025 West Valley Green Road, Flourtown, PA 19031
Thank you to all of our 2021 sponsors: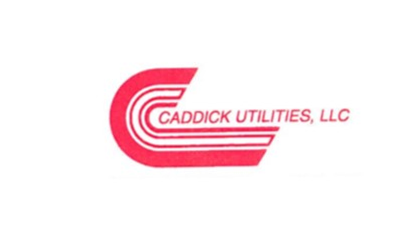 Thank you to everyone who came out to golf last year.
Here are the results of the tournament:
1st Place: Steve Caine/John Simone/Adam Leifer/Brandon Caine
Closest to the Pin Wissahickon #10 – Troy McCloskey (2'6″)
Closest to the Pin Militia Hill #11 – Tom Schwabenland (5'3″)
Longest Drive Wissahickon #4 – Chris Lex
Longest Drive Militia Hill #8 – Anthony Taglione
50/50 Putting Contest – Paul Edgerton (6)