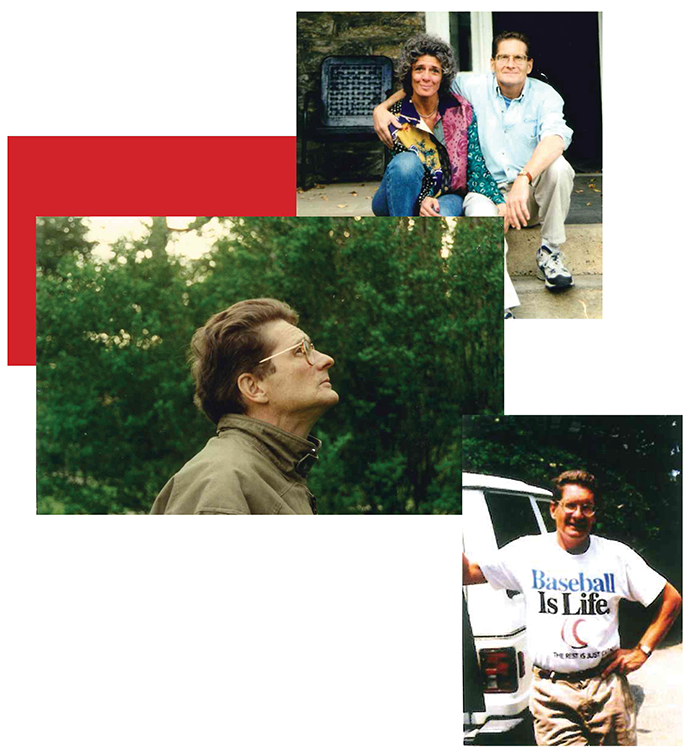 Hello, my name is Hope Raymond and I would like to thank you for your interest in the Tom McDermitt Fund. He and I met in August of 1995 while visiting a mutual friend in the hospital. Six months passed until we re-met and spent the next eight years together.
Tom was a long time cancer survivor, and during the last year of his life, he was deeply involved in the work of Gilda's Club Delaware Valley — now a part of Cancer Support Community Greater Philadelphia. He facilitated the prostate/bladder and blood cancer support groups and facilitated other groups when needed. He loved the Saturday Men's Breakfast and immersed himself in outreach and educational efforts at the clubhouse. His fund pays the salary of the facilitator of the two support groups mentioned, and it financially supports the Saturday men's breakfast, and other men's activities offered at CSCGP.
It is my privilege to offer you a glimpse into Tom's life. He grew up in Gettysburg, Pennsylvania and was one of four children of Anna and Leo McDermitt. After graduation from Villanova, he worked as a social worker at Children's Protective Services in Philadelphia. He later worked at Carson Valley School, a residential and non-residential facility for at-risk youth, where he became the Director for Clinical Services. At age 35 he was diagnosed with non-Hodgkins B-cell lymphoma. He had four recurrences, received 11 different rounds of chemotherapy, 2 rounds of radiation, and finally 2 courses of Bexxar. The second round of Bexxar gave him a seven year hiatus from his primary cancer. In October of 2003, he was diagnosed with one type of myeloid dysplastic syndrome, a precursor to leukemia. He also dealt with bladder cancer as well as other long term effects of his treatments. He propelled himself through each disease, its illness, and his wellness.
Tom was deeply loved by his family, friends, and many persons he met along his "path" (as he called it). Cancer takes away a lot of a person, physically, emotionally and spiritually. Tom, through his example, taught that while one's dignity may be assaulted, it can not be taken unless surrendered. For many, he brought an added understanding of suffering, passion, perseverance, respect, love, loyalty, hope, vulnerability, and the importance of asking for and accepting support. For the last ten years of his life, he offered counseling to individuals and couples. If you could not come to him, he came to you.
He was a frequent presenter at local and non-local workshops; a participant on various cancer panel discussions; and developed in-service programs in the cancer community. He spoke before the FDA and a Congressional panel which led to Bexxar being accepted as first-line treatment for non-Hodgkins lymphoma.
Lastly, Tom inspired and was inspired. He encouraged and was encouraged. He died in May of 2004 surrounded by his family and his friends.
His fund is a means to continue what was a life force for him, giving back. His card, "Daily Survival Kit for Serious Illness," was written over a year's time and was supported by Mrs. Jean Meyers and the James Meyers cancer support group. He was an original member of the Meyers group and was the group facilitator during the last five years of his life. The card was hugely important to Tom. It offers quiet support, encouragement, acceptance and understanding. The size of this card (3 and 5/8 inches by 6 and 11/16 inches) makes it easy to display and distribute.
The card can be downloaded here and on other cancer-related and non-cancer web sites. Also, GlaxoSmithKline bought the copyright to the card and supports its royalty-free reproduction to anyone who would benefit. If you would like to receive printed cards, we are happy to send you as many as you would like, as often as you would like, at absolutely no cost (even shipping and handling is covered). To arrange to receive the cards, please contact me at dskfsi@yahoo.com.
Thank you LARGELY and respectfully for your interest in the Tom McDermitt Fund.
– Hope
If you are interested in supporting the Tom McDermitt Fund's efforts, CSGCP is happy to accept donations for the fund via check. Please make checks payable to  "Cancer Support Community Greater Philadelphia" (with "Tom McDermitt Fund" on the memo line) and mail to 200 Kirk Road, Warminster, PA 18974.  Contact us at 215.879.7733 if you have any questions or would like to make a credit card donation by phone. Thank you so very much for your support!
Make a Donation to the Tom McDermitt Fund
Donations by Check
To make a donation by check, please make check(s) payable to:
Cancer Support Community Greater Philadelphia.
Check Memo:
Please include Tom McDermitt Fund in the memo on your check.
Mail donations to:
Cancer Support Community Greater Philadelphia
200 Kirk Road
Warminster PA 18974