This page showcases the work of talented individuals that have found healing through creative expression.
A cancer diagnosis introduces individuals and families to new challenges, experiences and systems.  Not every experience is tangible and not every challenge is physical.  Individuals and loved ones must also manage the emotional toll that can come with a cancer diagnosis.  Storytelling, journaling, art work or other creative expressions, can be an effective way to deal with these emotions and help with the healing process.  Each month, Cancer Support Community Greater Philadelphia offers more than 150 programs – all provided free of charge.  Each month, there are multiple opportunities to participate in creative expressive programs.  
The content on this page may not be reproduced or duplicated without permission from Cancer Support Community Greater Philadelphia and its members.
Amy, Uterine Cancer Fighter
Dear Self,
I am so glad to hear that my chemo has ended! I've been such a trooper – the fact that my side effects have been luckily minimal does not lessen the fact that I have been through a physical as well as an emotional journey. I adapted to a routine that no one wants to go through with grace and aplomb, and have mostly kept a sunny attitude. I have generously shared the lessons I have learned (and are learning) with others, giving back as it is in my personality to do (almost 300 of my "Facebook friends" reacted to my series of "Cancer is My Teacher" posts!). 
I know I am now at a scary juncture, with the future less clear than it was before my diagnosis, and of course before my course of chemo treatment that came with its own predictability of day, time, place, and people. I can sense the beginning of my "scan-xiety" with the upcoming scheduling of a post-chemo PET scan (at least now I know what a PET scan involves, since I had one before my surgery). I know it is not the scan PROCESS that has me anxious, but rather any findings, and wondering what it means for the "next steps" in my treatment.  
Love, 
Me
Rochelle, caregiver to my husband, Doug, for 4 years of Colon Cancer
The phone alarms sound                                                                                                                                                        Doug stumbles up first, I follow                                                                                                                                        We're out the door, in the dark                                                                                                                                          the moon a crescent running alongside
a stop at High Point coffee shop for my yum coffee and morning treat                                    the sky has lightened by the time I'm back in the car                                                                                  the JBS truck behind us following at a comfortable distance                                                              (is this my brother, despite his busy-ness, supporting us?)  
finding beauty in the morning drive                                                                                                                            the sky's brightening                                                                                                                                                                the sun rising between the buildings casting a golden glow                                                                the magnificent architecture of the old buildings  
the welcoming warmth of the valet men                                                                                                                the greeter smiling, knowing we know our way                                                                                                the information desk woman nodding in recognition                                                                                I'm so fraught with feelings  
Being welcomed at a place we don't want to be                                                                                                Being greeted warmly when don't want to be where you are                                                              Being a familiar face to familiar faces when you don't want to be known                              Being almost comfortable in a space that is so not a place you want to be part of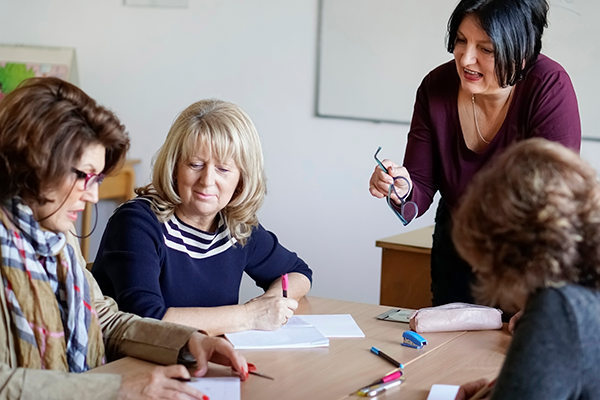 THANK YOU, CHEMO; I HATE YOU
Claire was diagnosed with breast cancer in 2019. She's been married to her husband for 37 years and has two adult children who bring her joy every day (well, almost every day).
Breast cancer didn't kill me but it brought me to my knees. And chemo? It saved my life but threw me in the mud, held my head down, twisted it in the muck, then kicked me in the ribs on its way out. I hated and always will hate chemo.
During chemo I would cry to my oncologist about the side effects. He'd say, "a little pain, Claire, for a lot of gain." Okay, number one it wasn't a "little" pain, it was a lotta pain. Number two, "Doc, you gotta come up with a better line."
But this article isn't only about my oncologist or chemo, it's about a word I've decided not to use: gratitude. Before all you optimists go ballistic, let me say up front that I am not a glass-is-half-full kind of person. For me, the glass is perpetually half empty. The cupboard is bare, the lot is vacant, the well is dry. And my metaphors are all used up. So take this to the bank: I'm not going to be using the "G" word.
We pessimists live in the real world. If we didn't complain how do you think things would get done? You think there's change in the world because optimists change it? Hell no. Pessimists do. We look at the world and declare, "Some people see things as they are, and say 'that's not so bad'; I dream of things that never were, and say 'why the heck don't we have that?' "
Back to chemo for a second. I am fortunate that I had the best medicine Medicare and a good Medicare supplement can buy. I have a family from heaven who helped and supported me beyond measure. My friends brought me dinners, presents and companionship which meant more to me than I can explain. That's good fortune and I am indebted to them. I thank them from the bottom of my heart. I'm beyond appreciative.
But chemo? It may have saved my life, but it was a horrid treatment. Made me bald, nauseous, exhausted and depressed. It blew up my digestive system, gave me severe bone pain, ruined my nails and gave me pimples. Pimples! At age 65!
So yeah, thank you, chemo, but I'm not grateful for you. Seriously, I hate you.